Get twice the insights with Google workspace and Rafiki integration
Rafiki integrates with all of your favorite Google workspace applications such as Google Meet, Google Calendar, and Gmail to deliver in-depth insights for your conversations. Rafiki supports single sign-on for secure, one-click login into Rafiki and your corresponding workspace applications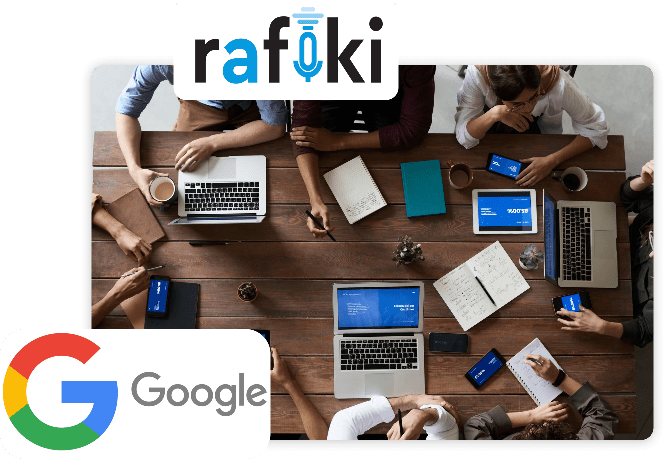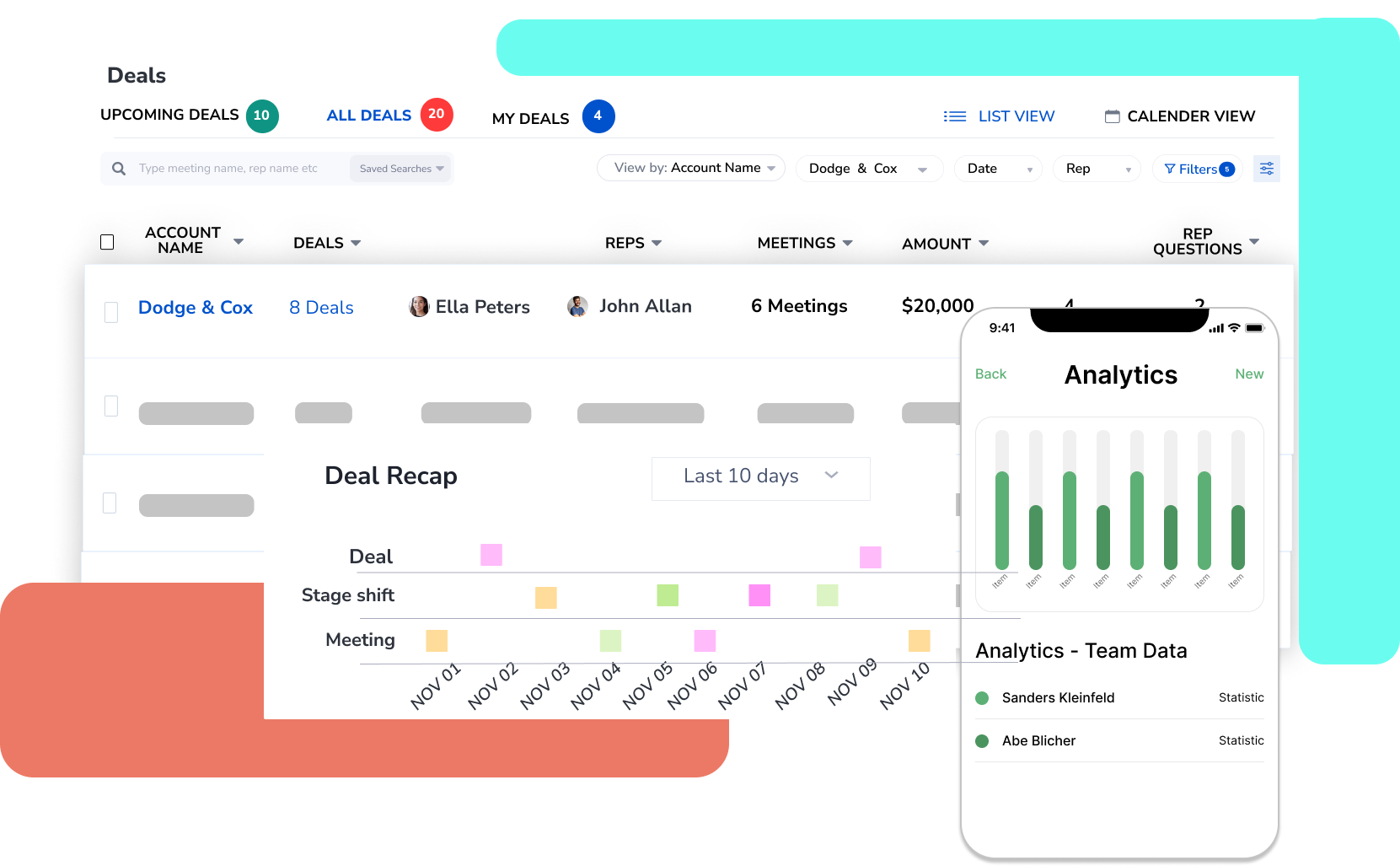 Meetings by date and time in Rafiki
Rafiki integrates with your Google calendar to pick up your upcoming meetings and is ready to record right from the second your meeting gets underway with your favorite conference call provider. In addition to your meetings, your team meetings, meeting transcripts, and the meeting videos are all available for searching, sorting, and analysis in an easy-to-understand 3 pane view.
Get the power of AI in all your meetings
Rafiki's integration with Google Meet enables you to leverage its state-of-the-art AI engine to automatically record, accurately transcribe, extract topics and analyze all of the meetings happening on Google Meet. Compare meetings across time, and across reps. Extract talk listen-ratio, interactivity, longest monologue, and other conversation factors for all meetings, and see whether you and your team are having good conversations
ORGANIZATION INTELLIGENCE
One-click login
Rafiki leverages not only the front-end applications of the Google workspace but also the single sign-on capabilities it offers. You can use your business email powered by Google to sign-up and log into Rafiki securely with just a click after enabling single sign-on. No more remembering multiple passwords for multiple applications. Bye-bye password fatigue. Hello convenience.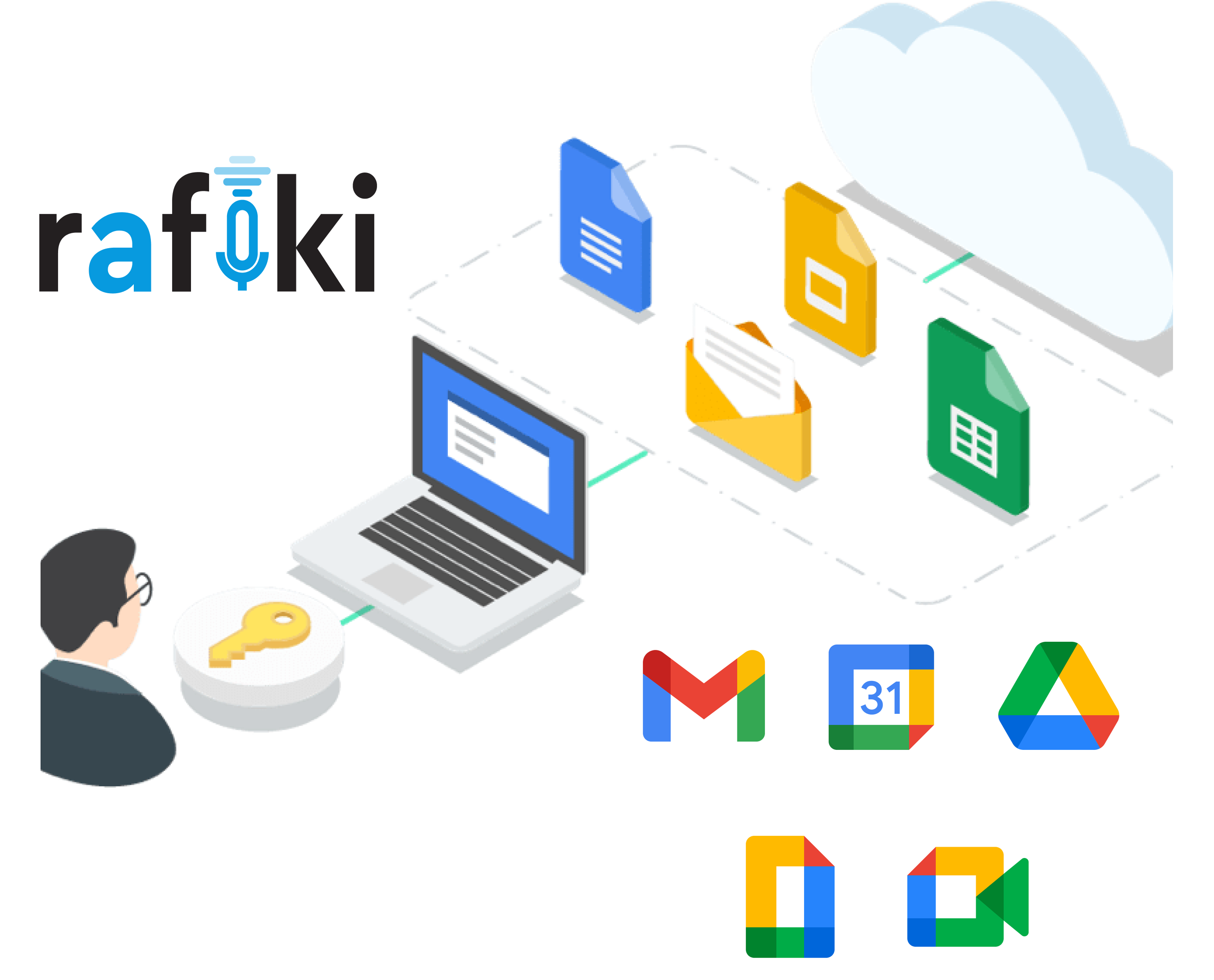 ORGANIZATION INTELLIGENCE
The power of Google Meet, Google Calendar, and AI together
Rafiki's tight integration with Google workspace applications, allows you to focus on delivering a stellar customer experience and not worry about penning down your observations and notes while on the call. You can come back to Rafiki and review all your meetings or even specific portions of selected meetings in a matter of minutes to gather insights that impact revenue.


Great customer conversations start here