WEB CONFERENCE INTEGRATION
Get the best of web conferencing and conversation intelligence
Add the power of AI to your business meetings. Integrate Rafiki with your Zoom account for high-quality video recording, accurate meeting transcript analyzed topic, and in-depth analytics. Stay on top of all your deals and never miss any cue that can potentially impact your revenue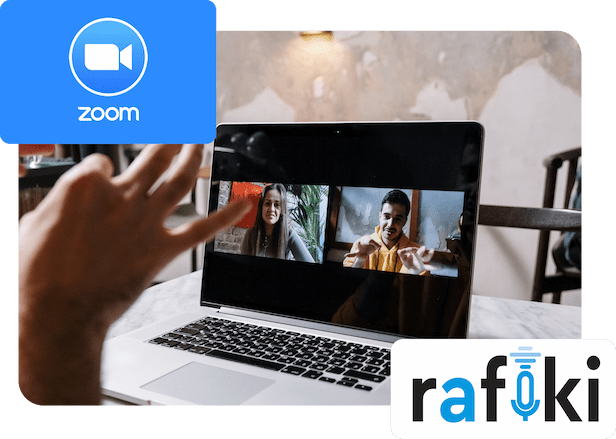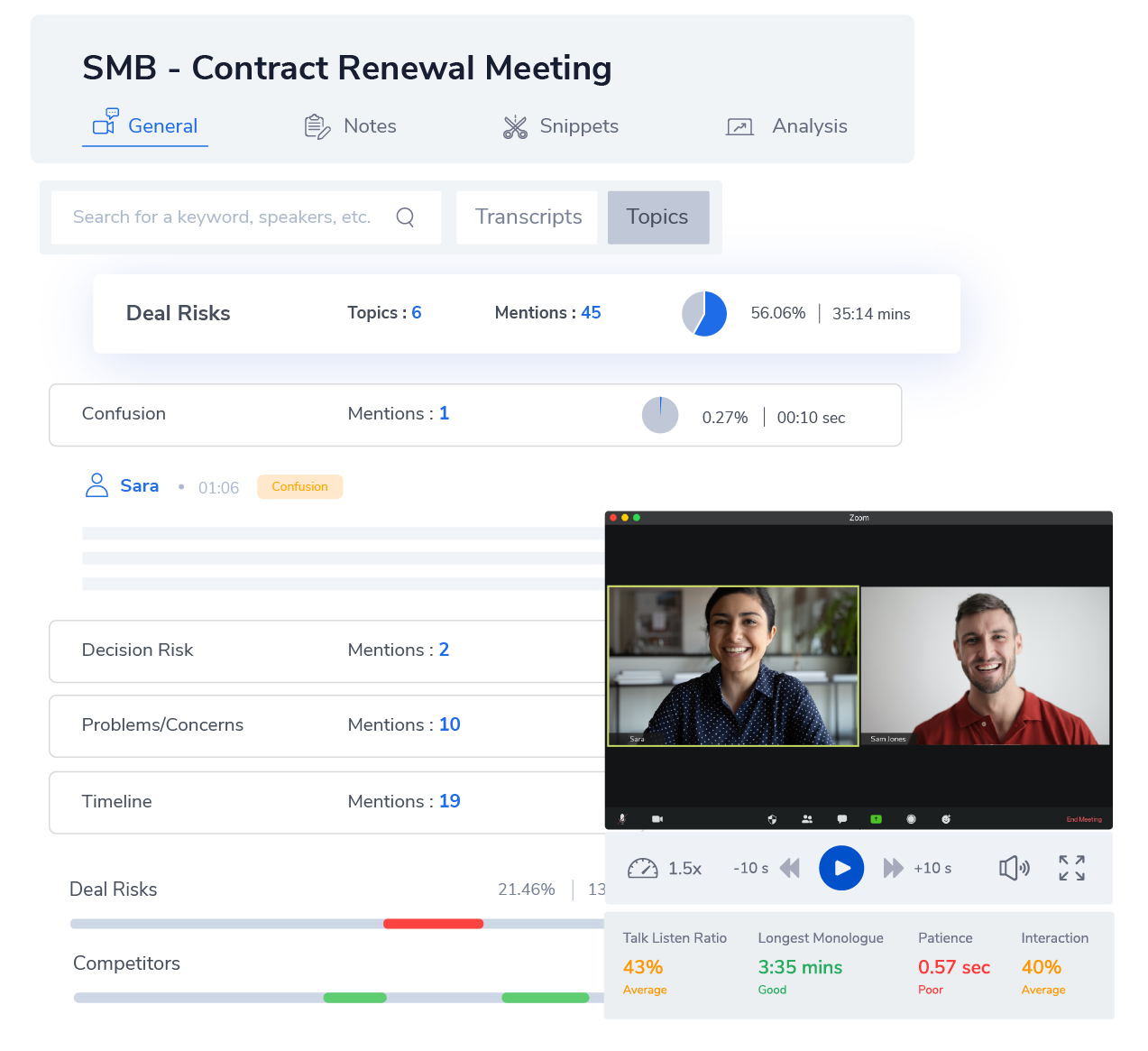 Focus on delivering a great customer experience. Rafiki's got the rest
Give customers your undivided attention. Rafiki's Zoom integration automatically picks up scheduled meetings from your Calendar and is ready even before your meeting starts. Rafiki automatically records, transcribes, generates notes by topics discussed, and analyses your entire meeting to give you in-depth insights. You can come back and review the meeting in minutes at your convenience. You never have to worry about taking notes or documenting the meeting! Rafiki has you covered.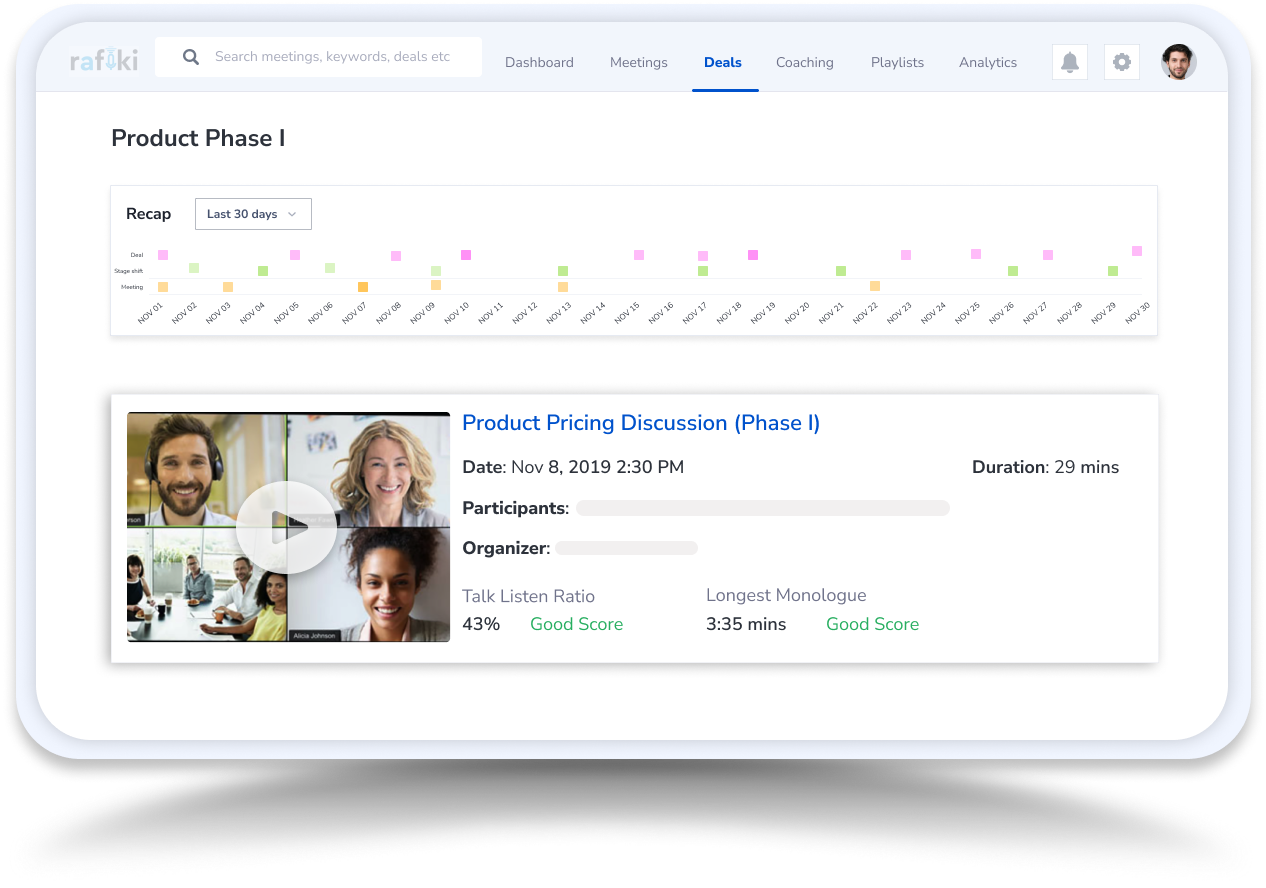 Stay close to what's happening on your deal
Automatically record, transcribe and analyze all your web conferences through zoom. Rafiki even records every screen switch to the speakers throughout your meeting so your video is always on the speaker. Powerful artificial intelligence, Zoom integration coupled with CRM integration enables Rafiki to tell you exactly who spoke what, about what, for how long, and the exact trajectory of your deal. Rafiki gives you the truth as is, no pinch of salt!

ORGANIZATION INTELLIGENCE
Insights directly from the horse's mouth
Get the best quality recordings, transcripts, and insights. Know which reps are hitting the bull's eye and which ones are missing it. Get in-depth, accurate analytics by rep, by a team, and even by meeting with topic tracks. Measure conversation metrics, topic success patterns, compare them with your best meetings, and bridge the gaps to build a team of sharpshooters.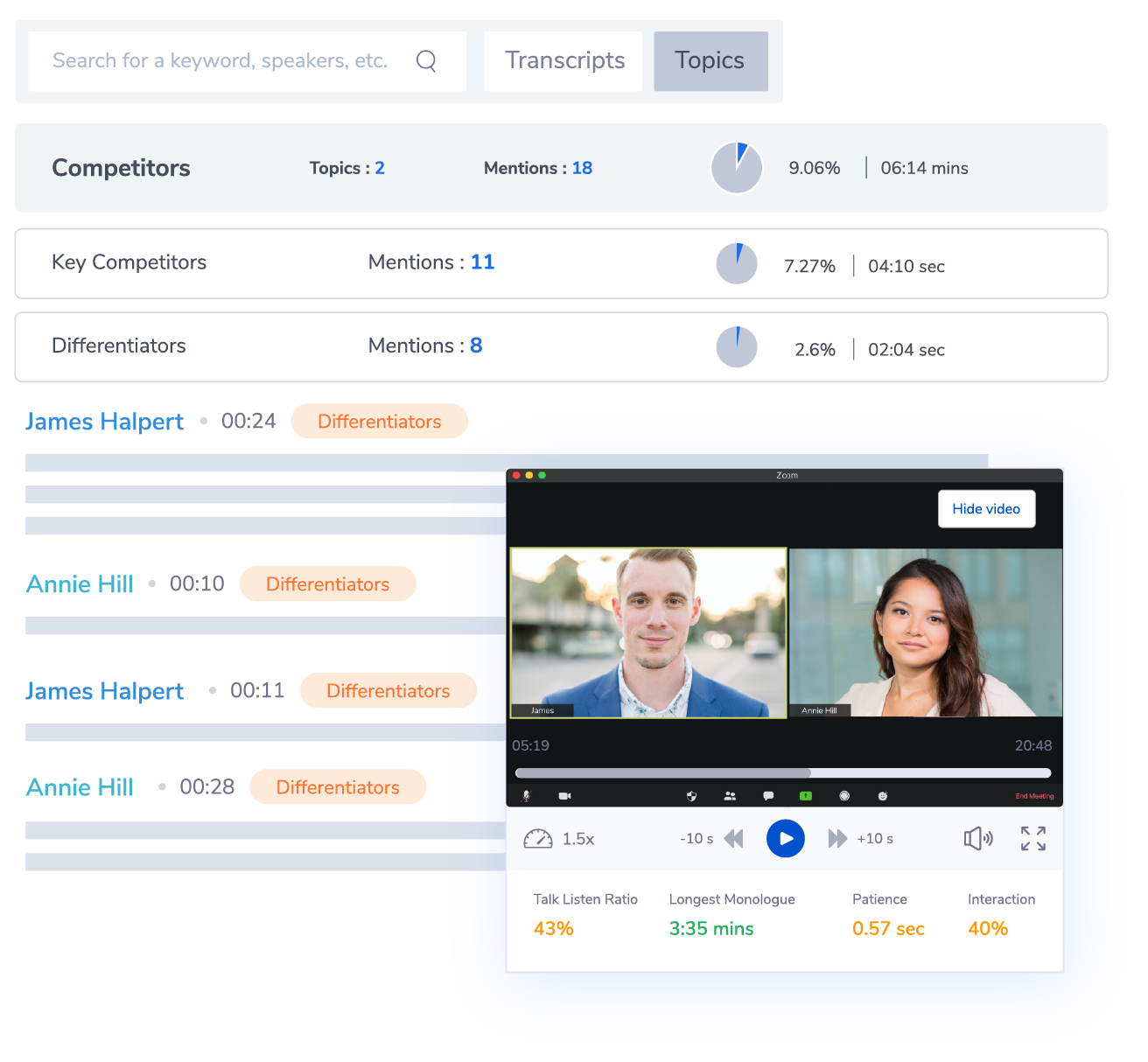 ORGANIZATION INTELLIGENCE
Leverage the power of AI-driven topic search
Zoom integration helps you get the industry's most accurate transcripts for all your meetings. With Rafiki's accurate transcripts and powerful AI-driven search, you always find more than what you're looking for. Apart from matching with texts on your transcript, Rafiki's search also throws light on other relevant terms affecting your search phrase.

Great customer conversations start here